Agile Methods.
Increase the efficiency of innovative processes
isi AgileMethods
You want to embrace and apply agile methods in your innovation management, work more cross-functionally, shorten innovation cycles, and adapt faster to market feedback. You wonder...
How can I reduce my time-to-market?

How can we work in cross-functional teams on FMCG innovations?

Which agile methods are transferable to my industry? What agile approaches should I use to consistently develop excellent quality results?

What is the best way to train my team in "Lean & Agile Innovation"?

Which sensory marketing research tools can support me in my agile innovation process?
Together with our ecosystem of experts and partners, we provide consulting and operational support with our agile methods. We support them on three levels: as a strategic advisor, with workshops and trainings on specific topics, and with our own innovative sensory research tools that optimally support you in applying agile methodologies
What methods do we use?
Different issues and products require different methods. That's why we don't rely on just one method, but work with you to select the approach that best fits your project. They all have one thing in common: Each method and tool in our toolbox has been designed and improved continuously over 25 years of experience in our field.
In the area of agile methods, these include design sprints for the development of new products, qualitative and quantitative agile status checks, and individually developed do-it-yourself tools that enable you to implement even small, rapid research projects. Our innovations S3 (Sensory Self-Service) and isi Test Studio Finder are just two examples of the ever increasingly important role of digitalization of research processes.
or contact us via our contact page.
Our tipps and insights about agile methods
In our blog you will find in-depth articles about our methods, exciting use cases, best practices and much more on the topic 'agile methods'.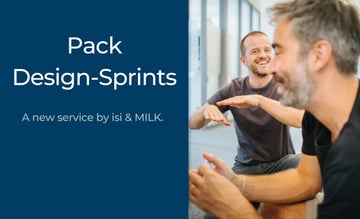 isi and MILK. are offering a more consumer oriented and faster method for developing packaging in the Food & Drink sector. The method, an enhanced five-day Design-Sprint, relies on continuous cons...