Pack & Design Testing.
Find the best design for your product or packaging
isi DesignTesting
Are you looking for the optimal design for your product or packaging? You wonder...
How is my product or packaging design perceived and judged?

Am I achieving my design goals on the aesthetic, functional, and symbolic levels?

Does my design stand out sufficiently from the competition? Does it have sufficient stopping power at the PoS?

What implicit associations are triggered by my design? Are these relevant for my target group?

Does my design strengthen my brand/product positioning, my core brand values? Does it fit logically into the existing product portfolio?

What specific design parameters are responsible for liking and the triggered associations?

What design adjustments can help me better achieve the goals I've set?
Our Pack & Design Testing provides answers to all these questions. These answers allow us to provide you with support in ideation and conceptualization including first drafts, 2D concepts and physical prototypes taking you to the finished end product.
or contact us via our contact page.
What methods do we use?
Different issues and products require different methods. That's why we don't rely on just one method but work with you to select the approach that best fits your project. They all have one thing in common: Each method and tool in our toolbox has been designed and improved continuously over 25 years of experience in our field.
In Design Testing, the isi toolbox includes DesignDecoding, isi ImplicitTesting, virtual environments design testing or so-called Design Hot Spot analyses. Due to the increasing digitalization of products, UX and interaction tests have become increasingly important over the years. Matching your requirements, we offer a wide range from short online tests with simple image representation, 360° / 3D models, to real-life tests including haptics & usability in the test studio.
Along with our partners, we offer support in strategic design projects such as the development of design frameworks or brand-specific design language for your products.
oder kontaktieren Sie uns über unser Kontaktformular
Our tipps and insights about pack & design testing.
In our blog you will find in-depth articles about our methods, exciting use cases, best practices and much more on the topic 'pack & design testing'.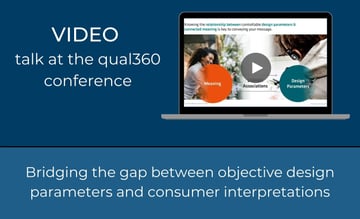 On March 5th 2021, Joachim Haag, isi Managing Director, gave a talk about isi DesignDescoding at the virtual qual360 conference. qual360 is Europe's most popular qualitative conference for insight lea...