Your questions about the Test Studio Finder
You can easily register via the button "get full access". For the registration we need your company & contact data, especially your e-mail address. After submitting your data, you will find a confirmation email in your email inbox. Please follow the steps given in the email to confirm your email address. After your registration is completed, your profile will be verified and you will have full access to all information regarding our test studios.
Users who register themselves must be confirmed by us before they can log in and use the Test Studio Finder. Our colleagues in administration will receive an e-mail with the data you provided, check it for completeness, and then approve your profile. Once your profile has been verified, you will be notified via e-mail.
Usually, accounts are verified immediately. The maximum time for verification is up to 24 hours.
Use the "reset password" feature - you will receive a confirmation email that will allow you to reset your old password and assign a new one.
In the Test Studio Finder, the respective test studios are distinguished according to their resources and capabilities to perform various fieldwork methods. The crucial factors here are the facilities and the know-how of the staff.
Quantitative Studio Test: Any quantitative methods such as CLTs, hall tests, product testing & consumer testing.
Qualitative Studio Test: Includes all qualitative methods such as focus groups, in-depth interviews & group discussions.
Home-Use Test: All methods in which product tests are carried out by selected test subjects at home, e.g. IHUTs, Home-Use Test, Extended Use Test or Product Placement Test.
Sensory Lab Test: Quantitative methods that must be performed exclusively in sensory laboratories under fully controlled conditions.
The filters are divided into 3 categories. Rooms & Facilities, IT & Technology and Product Storage & Preparation. Next to each of these categories there is an info button in the selection bar/ tab. Clicking on it opens a window with an explanation of the individual filters.
Once logged in, you can view more information on the test studio by clicking the "show more" button. You will see the full name of the studio, all equipment features, photos and have the possibility to download a PDF with all details.
Yes. Add any number of studios to your list and create a request.
You will receive a non-binding offer for all requested studios. Under the item "what else" you can already specify whether you want to get an offer price per studio or for all selected studios.
In order to provide you with an offer as quickly as possible and without further queries, it is important that you fill in as many boxes as possible in the inquiry form.
Sample size is the number of completed responses your project should include.
The incidence rate is a measure of the frequency of occurrence of a characteristic in a population in relation to a point in time or time period. It is important for calculating the recruitment effort and indicates how difficult it is to find participants from the desired target group.
For each request, you can individually select the respective service modules: What do you want to cover yourself, what do you want isi to provide?
Each request is processed by our experts. Usually, you should receive the offer within 48 hours at the latest.
No, your request is not binding.
You will receive a confirmation e-mail with your request data. Our experts will process your request and, if necessary, contact you to discuss any uncertainties. Once we have processed your request, our experts will send you an e-mail with our official offer for your request.
You can find more information about our studio certification on the "About" page. Please contact us if you need any more information. We are happy to help you.
We will be happy to advise you on your options and support you with your request. Please contact our experts for this purpose or click here to book a meeting.
or register on the platform:
More information about our Test Studio Finder
On our blog you will find in-depth articles, exciting use cases, best practices and much more about our Test Studio Finder.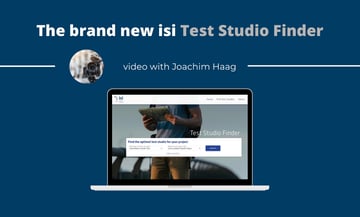 Our new website teststudiofinder.com has been online for a few days now. This platform enables our customers the ability to compare, and book, test studios and sensory labs worldwide quickly and free ...